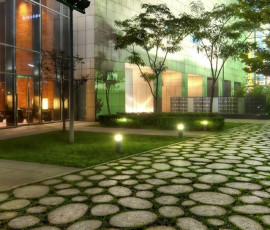 Oxford Sustainable (OSG) is one of the leaders in the wind development, renewable energy and the quality/ sustainable property development sectors.
Sustainable for us means a 360 degree approach including economic, social and environmental aspects. In these sectors we do the following:
certify, audit and advise on quality, sustainability and energy (e.g. Breeam). For more information, see the section 'Services' on the menu
development – buy land, property and energy assets with potential, and add value through detailed planning or construction of these assets
Mission
To improve our own and others':
profitability/ success
quality of product
excellence of individual, company and group performance
cost and resource efficiency
through developing, advising on and auditing projects and constructions in a sustainably intelligent manner.
Values
We will consistently own the responsibility to lead others, succeed at our goals and win when we are challenged.
We will maintain an outstanding level of expertise, experience & professionalism.
We will embody trustworthiness, tenacity and sustainability.
We are modern and tenacious in our approach while old fashioned in the sense that the principles of honesty, trust and doing what is right are central to our business practice. Our strength lies in a sustainable business approach which covers the full project lifecycle.
Vision
To continuously push the boundaries of a sustainable life for individuals, communities and societies: health, happiness, harmony and long life. Finally all business is conducted for the benefit of people.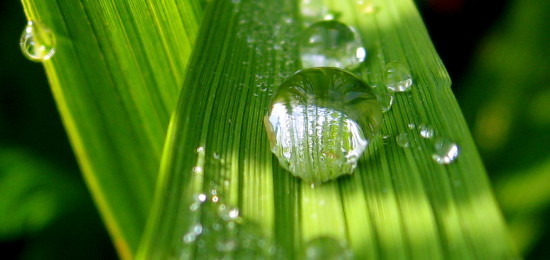 Track Record
Oxford has real depth of knowledge and proven experience with successful projects. During the last 10 years we have gained a strong reputation in asset development of wind projects, renewable energy and quality/ sustainable property, particularly during the planning phase of development.
We have previously managed projects, companies or teams in Finland, UK, Italy, The Netherlands, Estonia, Guernsey, Romania, Malta and Latvia. Our current geographical focus is Scandinavia.
Notable projects at the time included planning wind farms, the largest approved polyfunctional development on the Romanian black sea coast, advising one of the largest retail centres and the largest outlet centre in the Baltics on quality and sustainability, approval of a significant biomass unit in Estonia, approving the most advanced sustainable development in the Baltics and the first company to launch national mass market domestic disaggregated solar in the UK.
Qualifications
Oxford Sustainable is certified under ISO 9001, ISO 14001 and ISO 50001, the first in the region to achieve the 'Big 3″ ISO certifications. Team members are qualified in Project Management, Breeam/Leed or other similar professional qualifications and the management company is Carbon Neutral. With a small, professional team, located on-the-ground in our development areas, Oxford's reach is further than its size.
Approach
We act according to an outstanding professional, corporate and ethical code. Our structured but creative and entrepreneurial environment draws the best from our staff, partners, suppliers and clients. We achieve leadership through four foundations of expertise:
Professionality
Our companies are licensed and our team members are fully certified in one or more global standards, Project Management standards, Breeam, Leed, ISO standards or are in the process of qualifying. We are one of a very few leading companies dedicated to this level of commitment in professional certification, qualification and ability.
Corporate responsibility
We promote an open, honest and transparent approach to business. The group strategy is to add considerable value to land assets, to act with corporate responsibility and to work with all stakeholders in long term relationships so that the (local) government, residents, the region, investors and management all receive a benefit from the designs and projects completed.
Ethical awareness
We were the firstCarbon Neutral development company in CEE/North region, first BREEAM qualified professionals in the region, build SIA analysis into our designs and offer customers renewable/environmentally friendly techniques, materials and energy sources. We actively support animal charities.
Knowledge
We are quality and sustainable knowledge leaders in our markets and region through our creative, adaptive approach and the use of our Oxford 360 degree Sustainability Index.
For more information, see our:
Quality and Sustainability
We have developed a bespoke methodology for assessing, defining, managing and delivering projects in terms of quality and sustainability. The Oxford 360 Sustainability Index was developed because there were and still are no suitable methodologies on the market which professionally capture the full range of stakeholders, quality and sustainability requirements from cash-in to cash-out while at the same time (a) increasing quality and positive sustainable impact, (b) minimising negative sustainable impact and (c) enhancing returns. A truly sustainable project should increase returns, improve quality and also generate a positive impact to the surroundings. In our working model, these aspects are not in conflict.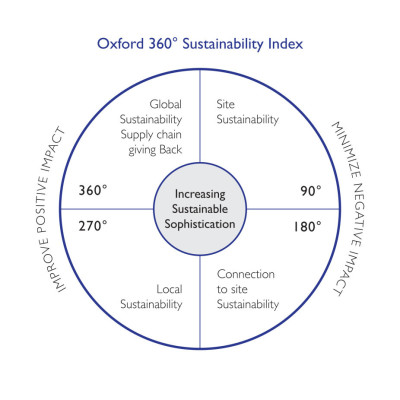 The Oxford 360 Sustainability Index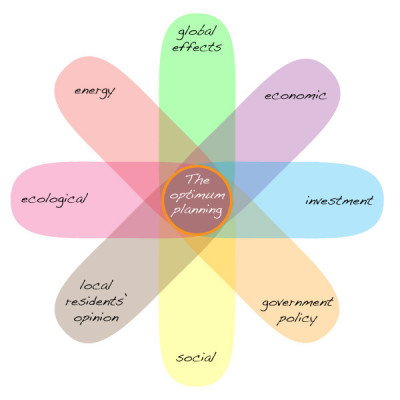 Areas and stakeholders considered in the Oxford 360 Sustainability Index
Due Diligence
Our own institutional due diligence process consists of 3 assessment stages.
First, 20 selection criteria are applied to any potential projects based on a series of analysis documents by primarily independent experts in an advisory board, chosen according to the project in question.
Second, an investment committee decides to accept or reject the project based on advisory board input.
Third, an Oxford advisory team makes an assessment of both advisory board and investment committee input, including a further 17 acceptance requirements and decides to accept or reject the project.
Finally, once the 3 assessment stages have been passed, an investment board (e.g. fund board) makes the final decision on the project based on previous input and investment criteria for the specific opportunity.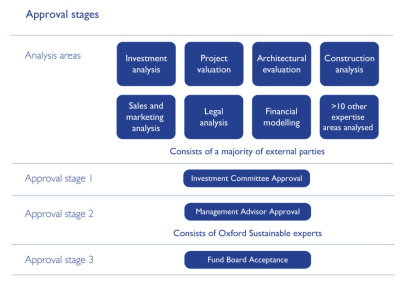 Oxford Sustainable Group due diligence process diagram
Returns
Our performance has been ahead of our peers. Key project returns have been independently analysed.
By generating a high return we are able to prove that when correctly using a true quality and sustainable approach, returns will exceed the market norm. The philosophy is simple. If we generate high returns, more interest will be attracted to our projects and therefore we can allocate more money to projects which have a positive benefit on society, a classic 'win-win' situation.
The Oxford effect
We have brought a considerable amount of knowledge, new practices, professional working methods and thought-leadership to the table during working relationships with our partners in Europe. This includes the correct use of professional project management, the latest sustainable thinking, a full stakeholder and political approach and advanced business practice. We have noticed that our partners have generally become more successful and expanded their business or politcal support base.